Vettayaadu Vilayaadu Sound Track - First Impressions.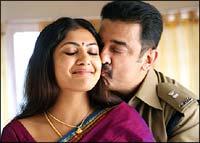 Photo from www.rediff.com
Just got a chance to listen to Harris Jeyaraj's newest album. First impression.. awesome!! I liked 4 out of the 5 songs after listening to it the first time.
My favourite song so far has been Manjal Veyil. Good use of the rock guitar. Hariharan does a decent job in the song with Vijay & Nakul adding good secondaries..
Close seconds are Paartha Mudhal & Uyirile. Sexed out instrumentation for Paartha Mudhal I must say. Gives me the feel of Suttum Vizhi from Ghajini. Maybe its Bombay Jayshree's voice which lends it the similar feel? Unni Menon & she have done an excellent job in this song.
I didn't like Nerrupe at all. It sounds a lot like the Rahathula Rahathula from Ghajini (which I didn't like either).
Thankfully, the lyrics in this album aren't as crappy as Anniyan's lyrics. I still haven't heard it enough to appreciate the lyrics entirely.
I'm excited about this movie. With Gautham Menon in the director's seat and Kamal Hassan playing a cop after a long time.. will this be another Kaakha Kaakha? The songs sure live up to the expectations!